Arizona Coyotes
Introduction
My very first season in FHM 2 was spent taking the Leafs to the playoffs (realisitc!) and losing to Montreal in six games(is it any worse than Boston?). Brian Burke has nothing on me! I got off to a 9-0-0 start and just needed to hold serve to make it in, but then Bernier decided to suck and ended all of that. I thought the Leafs would be a long-term challenge, but the financial resources available were just too abundant. So, I'm going to take my talents to the desert and try to deliver Arizona's very first Stanley Cup and do my best to share it all with you in somewhat entertaining fashion.
I intend for this to be a long-term sim of about 20 years. Shorter or longer depending on how I'm feeling. I also intend for this to move at a brisk pace: report back with monthly updates as opposed to analyzing every single game during the regular season. Probably offer game-by-game for playoffs, but get this ball rolling to hit 20 years within my lifetime.
Game Setup
New 2015-2016 game. All leagues were not selected as playable outside of the NHL and AHL. There is no intention to focus on the results from any other major league in the world, but maybe something tickles my fancy that I just can't help but share it. Instantly took over as the GM of the Arizona Coyotes along with the automatic reputation it gave me. Cannot be fired is on; so the owner is stuck with me whether he likes it or not. Team logos are included and I'll wait for some of the great modders to release their league logos to include with this dynasty. Last thing I did was to rename the NHL, AHL, & ECHL awards to to match real life as best I could. All other settings remain at the default. The farm teams will handle the rosters on their own, but I'll keep an eye out to make sure prospects get their ice-time and training.
Let the Journey Begin
The owner, reporters, and fans were delighted to bring me on as General Manager of the Coyotes. Let's see what there is to work with...
Very defensive? Very physical? If I were a hockey player, I would not be those things.
I love working with Canadians, but a total budget of $63 million does not make things easy when the salary cap is $71.4 million. Thhough we are rebuilding so it's not like I'll need all of that space....yet.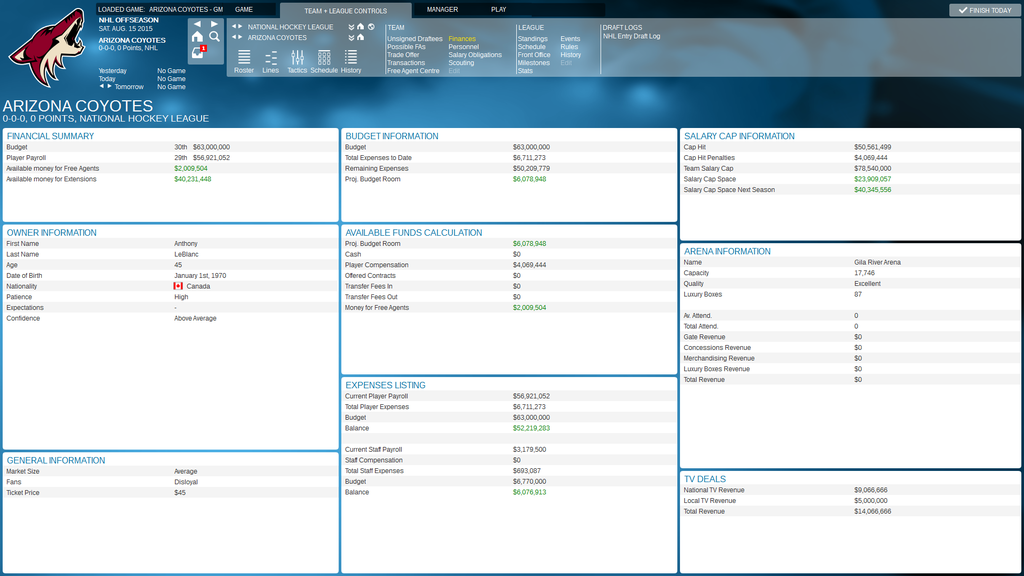 Now who is the best player?
Hey Oliver, what do you think about becoming a left winger? I hope my best prospect looks just as good.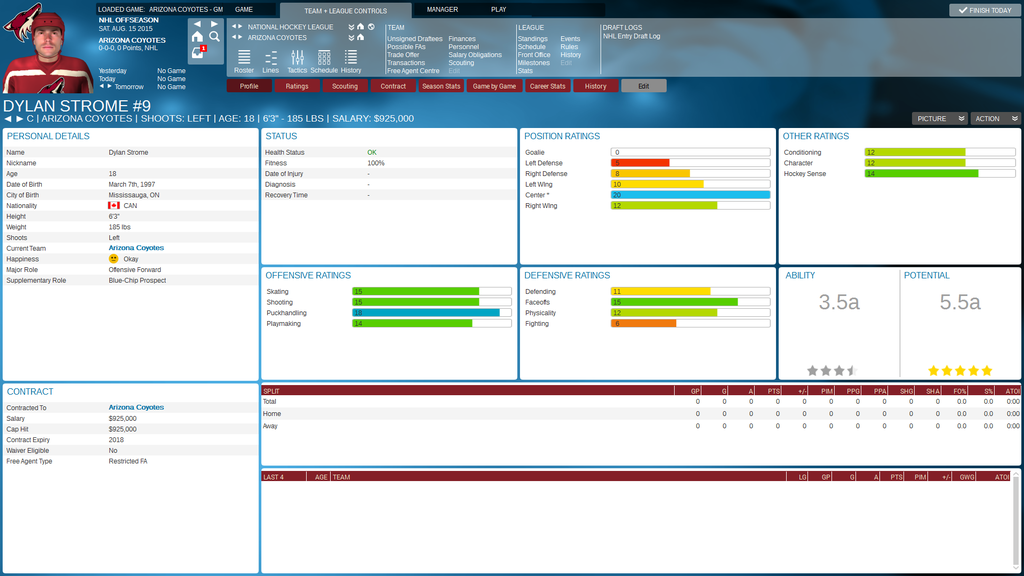 You were just drafted? This rebuild might not be too bad.
My top scout is already emailing me about this guy named Austin Mathews. Hails from Arizona and is the consensus #1 pick for next year's draft. What a Cinderalla story it would be to bring him in.
Granted, we would have to be pretty bad to make it all work out. I was here to sell hope and Austin would personify that!
There are six assistant coaches and I have no intention of removing any of them this year, but two of them have expiring contracts and won't return for next year. I intend to have no more than five assistant coaches under my employ moving forward. I hired seven more scouts with the club to bring the total up to 24. Have no idea if this is too much. Seems okay to me. Half the scouts are looking at players in the draft. The rest are scouring the world for curent abilities. Quantity over quality right now, but we'll start to focus in on players as the year goes on.
The next update will proceed through the end of pre-season. I need to figure out what my roster and line-ups will be before the first game.