The World Baseball Association is moving into its 20th season, which will be the first using OOTP 20.
------------------------------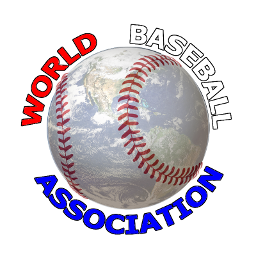 Full League Name (Initials)
: World Baseball Association (WBA)
League Type:
Fictional
Main URL:
World Baseball Association
Boards URL:
WBA Forum
Rules URL:
WBA Constitution
Commissioner OOTP Forum Username(s):
Huckleberry
Email Address
:
huckleberry@worldbaseballassociation.com
OOTP Version
: OOTP20
Game Needed
: Required
# of Teams
: 20 teams from international locations
Sim Schedule
: Regular season will be 5 days per week, scheduled for Su-Th nights.
League Time Per Sim
: 7 Days
First Season
: 2100
Special Rules & Settings:
Custom financials (see Rules link). Coaching and scouting disabled (so 100% scouting accuracy). Association setup with two separate and distinct leagues with champions meeting in a best-of-nine association championship series each year. League-specific draft pools but trading and free agency between leagues enabled. New owners may move teams but must keep them within the divisional geography. 1995 statistical settings were used for league creation; more/less offense and more/less pitching league evolution settings were originally left ON with all other evolution off, however statistical issues have caused us to move to a modified era_stats file to control statistical output. OOTP OU and Stats+ are used for league functions where possible.
All of that and more explained in the rules link above.
There are several custom tools pages that I coded to make participation easier.
These include financial snapshots, a backup team export file upload tool, a page that checks for any contracts outside of league rules, position check for players being assigned incorrect positions, and a DFA status page that allows owners to check to see if they need to take care of any DFA issues without having to get into the game. Take a look around the league site and let me know if you have any questions or better yet would like to join!
CURRENTLY OPEN TEAMS
:
ABL:
None
IBL:
London Monarchs
PM me, email me, or fill out
this form
if you'd like to join!