1972-73
This season is pretty standard, as the abolishing of European influence really takes no affect. A few players, namely Thommie Bergman and Juha Widing, are eliminated from the Red Wings and Kings, but other than that, no teams are really any different than from in real life.
Some big trades included Toronto acquiring young Billy Smith from the Islanders for Lyle Moffat and Dale Smedsmo. The Leafs also made another big trade, this time with Chicago. They swapped Summit Series team mates Bill White and Ron Ellis. Montreal acquired veteran Tim Horton from Buffalo for young goalie Michel Plasse. At the deadline, Montreal moved out Rejean Houle and Michel Deguise to Detroit for Denis DeJordy and Brian Watts.
Standings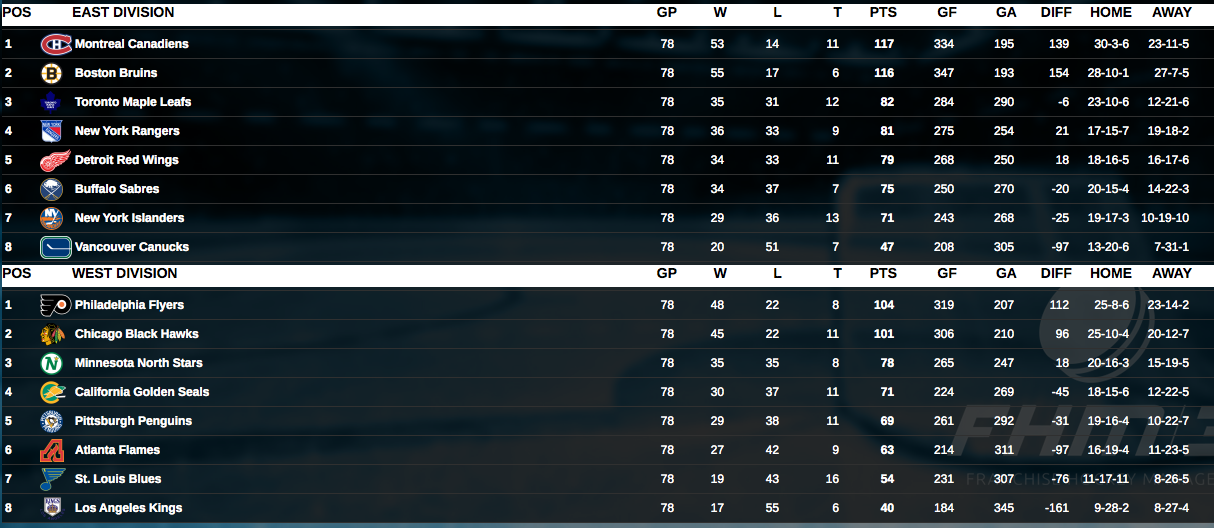 Stats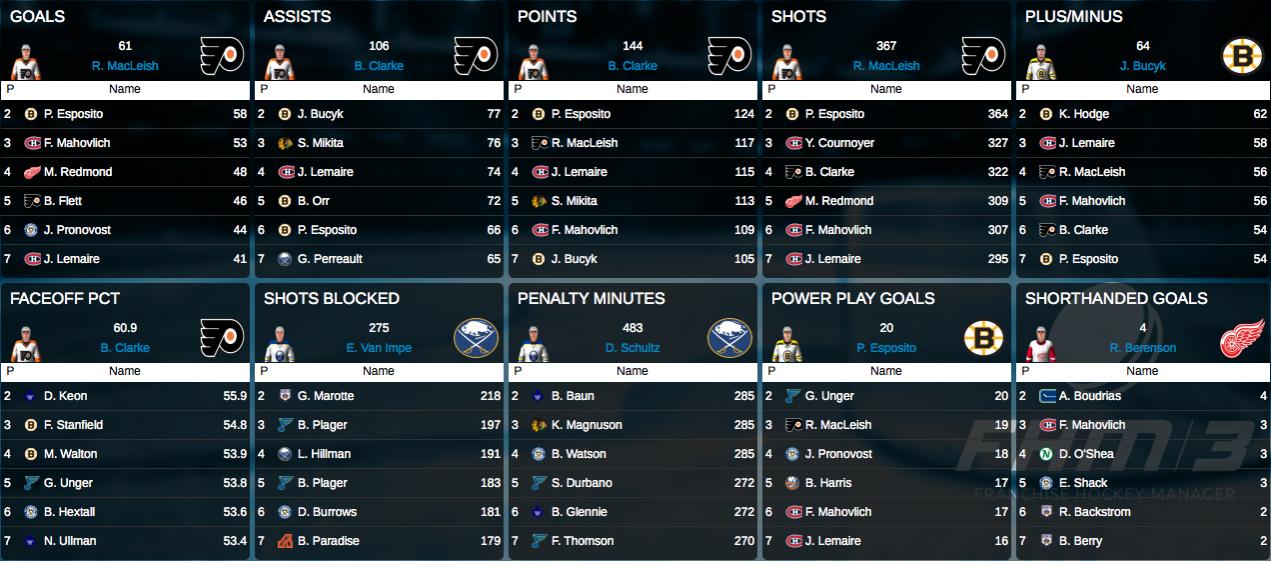 Playoffs
In Round 1, we have two Original Six matchups in the East Division, with Montreal playing the Rangers, and Boston and Toronto facing off. In the West Division, Philly plays California, and Chicago draws the North Stars.
Montreal is taken to 6 games by the Rangers, but they prevail over a crippled blueline, missing Brad Park to injury, despite Gilbert and Hadfield each contributing 8 points. Boston does the same to Toronto, who was led by Keon with 9 points in 6 games. Philadelphia beat out California in 5 games, and Chicago eliminated Minnesota in 6 games.
In Round 2, the Canadiens faced off against the Hawks, and the Flyers met the Bruins. Montreal knocked off Chicago in 5 games, and the Bruins beat out the young Flyers in 6 games.
In the final, the defending champion Bruins met the Montreal Canadiens. The Habs defeat the Bruins in 4 games, making short work of them. Leading the way was Marc Tardif, who scored 13 goals in just 15 playoff games.
Awards
Hart - Phil Esposito, Boston Bruins
Smythe - Bobby Orr, Boston Bruins
Vezina - Ken Dryden, Montreal Canadiens
Norris - Bobby Orr, Boston Bruins
Calder - Billy Harris, New York Islanders
Richard - Rick MacLeish, Philadelphia Flyers
Selke - Bobby Clarke, Philadelphia Flyers
Ross - Bobby Clarke, Philadelphia Flyers
Jennings - Eddie Johnston, Boston Bruins
Plus/Minus - John Bucyk, Boston Bruins
Crozier - Roy Edwards, Detroit Red Wings