Earlier this week there was a post on r/FranchiseHockey from a newer player to the game who had questions about scouting and the basics of scouting. While answering him, I mentioned that when I'm managing NHL franchises I go pretty ( okay, very

) overkill on the number of scouts I hire (94!).
Thread:
https://www.reddit.com/r/FranchiseHo...scouting_tips/
To keep track of the over 90 scouts I have on an NHL club, I made a spreadsheet that I print out for each save game. This lets me keep track of my network and to make sure I have every scout assigned properly and also to replace scouts that retire etc.
Figured I share it here, in PDF format. I used the Mac program Numbers, not excel, and the checkbox function I used didn't export over properly, so I converted it to a PDF instead.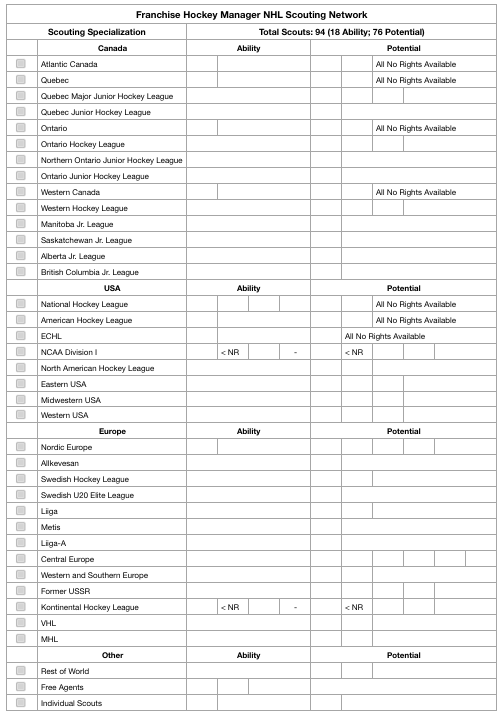 PDF:
FHM NHL Scouting Network.pdf
Some time this weekend I might write up a more complete guide to scouting at the NHL level, but long story short my goal is to have everyone scouted at the pro level, and all the draft prospects, scouted to level A (anyone not at that level I'm looking to trade or sign I use Individual Scouts).
Any questions let me know!
-toque