Background Story:
Trent Sanders, 19 Year old coming from Barrie, ONT has grown up on Hockey. Since being able to pick up a stick, the game was in his blood. Growing up he had some big seasons in the AA and AAA Rep teams, til he had a freak accident on the ice, where he was knocked down hard and collided in the goal post head first, which put his neck into an awkward kink.
When taken to the hospital and assessed, it was determined he wouldn't be able to play again. Despite some anger and a small depression state, Trent had taken schooling for business, fitness and athletics. His grades sparked interest and he got the call by his hometown OHL team, the Barrie Colts for an internship as the GM/Coach of the Barrie Colts for a 2 Year Trial!
This is where the career of Trent Sanders begins....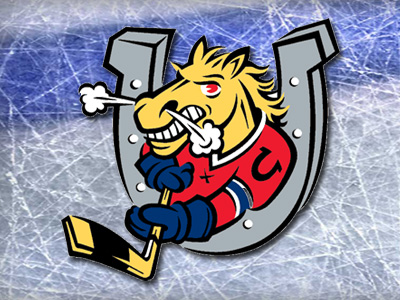 Season One: Pre-Season Results Promising:
Trent wasted little time getting to know the players of the team. Even though the age of the players and new GM are roughly close, it seemed as though the team accepted the new comer to the team with open arms and were prepared to work hard to help make the season one to remember for the young GM.
Things looked rocky on the defensive side the first few games, as we seen victories, but by close margins and in the first 4 games we seen a Goal for of 20 and Goals Against of 11. They finished the last 3 games of the preseason strong going GF:18-GA:3
Ryan Suzuki Lead the team in goals, assists and points during the stretch of the preseason with 6 goals, 7 assists for 13pts in 7 games.
Goaltenders looked strong, as Jet Greaves took 5/7 of the games posting a 1.80 GAA and a .911 SV%. Arturs Silovs got 2 nods and posted a 2.50 GAA with a .896SV%.
Trent has given Greaves the starting role, with Silovs being the backup for this coming season.